Skip to Content
Your Local, Trusted Asphalt Company
Whether you are in need of asphalt paving, concrete pouring, sealcoating, striping, pothole repair, infrared patches or simply grading Kickin' Asphalt is the trusted partner on all things paving in Denver, CO & the Arizona Valley. We are fourth generation, family owned and operated with highly trained staff who take pride in their work. We provide Highway grade asphalt with commercial grade equipment. Kickin' Asphalt is licensed, insured, and bonded so call us today to get started on your free estimate.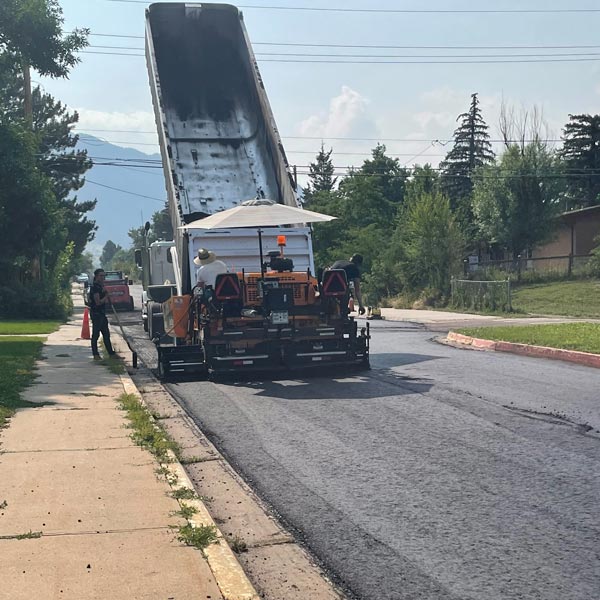 The Paving Process
We specialize in asphalt driveways and parking lots. Our team of trained foremen follows a specific process to ensure a smooth and even asphalt application. This process ensures we can quickly and efficiently get the job done right. Kickin' Asphalt Paving is a one-stop shop for all paving needs for new installs, existing pavement, or simply resurfacing.
Here's How Our Foremen Pave a New Lot:
Grading
Before asphalt can be laid, the ground must be prepared to ensure the lot is built to last. Our team has the equipment and know-how to accomplish the prep work easily.
Asphalt Glue
To ensure the new layer of asphalt sticks, we cover the graded area with an adhesive. It's important to note that we use highway-grade products with commercial equipment and techniques.
Paving
This step is when we apply the layers of your new asphalt. Your project manager will ensure the asphalt is smooth and even.
Rolling With Vibratory Rollers
The rolling process is to compact and solidify your new asphalt. Rolling is also used to smooth out any rough patches.
Striping
Once everything is completed, your team will stripe your parking lot to make it easy for customers to park (if needed). It's also used to help identify critical areas of your industrial lot.
Customer Satisfaction Guaranteed
Our work is top quality and second to none, but that's not why our customers are loyal to us. We consistently go above and beyond to ensure that all requests are handled successfully and efficiently. Each of our jobs has a project manager assigned. This is to offer our customers a single point of contact and specialized attention to consistently check your needs and provide updates on the job. There is no stone we won't leave unturned for our customers. Be sure to call to find out more about our customer-first approach and to schedule your estimate.
If You Don't Call Us…
It's Your Own Asphalt
Call to Schedule Your Free Estimate