Skip to Content
Bring New Life to Old Asphalt
If you want to retain that like-new look of your asphalt, then we suggest sealcoating. The asphalt paving industry leaders at Kickin' Asphalt Paving in Denver, CO & the Arizona Valley, have you covered. Sealcoating is a cost-effective way to keep older asphalt looking brand-new while protecting it from rain, UV rays, and chemicals. These will slowly unbind your asphalt and create cracks and crumble your driveway. To reduce the impact of these elements, routine maintenance is essential. Give us a call to get on a maintenance plan and schedule your sealcoating.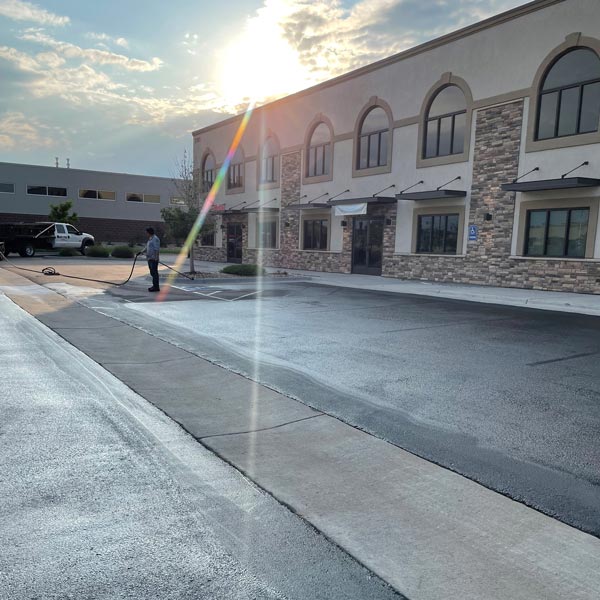 What Are the Benefits of Sealcoating?
periods. This allows you to focus on your home and business without sweating the small stuff. However, things happen, and
Sealcoating is the best solution to extend and maintain your driveway, parking lot, or other asphalt paved surface. By sealcoating your asphalt, you're providing a layer of protection against the elements, water, and oils from vehicles. It also provides you with a deep black finish that's slip resistant and increases the visual appeal of your home or business.
Additional Benefits of Sealcoating Include
Protects & Extends Pavement Life
As stated before, sealcoating adds a protective layer to your existing asphalt. Think of it as a shell helping stop complications from car oil or water slowly degrading your asphalt.
Prevents High Repair Costs
Your asphalt is always open to the elements without proper protection. This can cause damage over time and lead to expensive repair costs.
Help Protect Against Water & Freeze Cycle
The winter is harsh on asphalt. Water sneaks into the cracks, freezes, and expands, creating issues where there were none or creating unsightly gaps.
Keep Your Asphalt Looking Beautiful
After applying sealcoating, your asphalt will turn black and immediately boost your curb appeal. The new layer will make it easy for rain to wash away dirt and debris, keeping everything looking immaculate.
Protection You Can See
Avoid the hassle and stress of dealing with repairs by sealcoating your asphalt. The black coating is a protection you can see and rely on. It's a cost-effective method that keeps your home or business the envy of the area while ensuring your asphalt's lifetime is greatly extended. Our team only uses the best material sold on the market. We pride ourselves on our extensive preparation methods to provide the best application. Be sure to call us to schedule your sealcoating.
If You Don't Call Us…
It's Your Own Asphalt
Call to Schedule Your Free Estimate